Aluminum Gangways are Our Specialty
Our all welded, aluminum gangways are available in four models, in lengths from 15' to 80' and widths up to 8'. Whether you're looking for an affordable gangway for your home, a commercial aluminum gangway for your marina or heavy duty aluminum gangways for an industrial setting, Superior Docks has a model to meet your needs.
Independence Seaport Museum, Penn's Landing, Philadelphia, Pennsylvania

Over the years, we have had many requests for security gates to be incorporated into our aluminum gangways. This security gate and gangway were designed and fabricated for the Independence Seaport Museum in Philadelphia, PA. A water jet was used to cut the museums logo into the aluminum arch that makes up the top of the gate. The unique wave design of the pickets was also inspired by the museums logo. This gives the security gate a sinuous, nautical theme. » More Information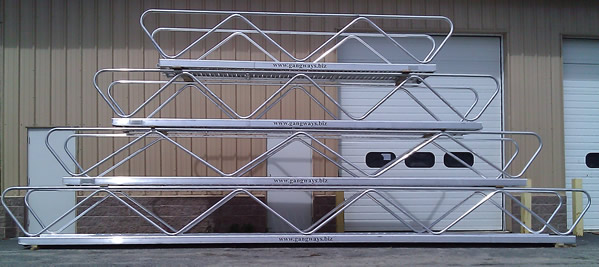 WAVE Style Aluminum Gangway

The WAVE style aluminum gangway, pictured above, is an affordable solution for your gangway needs. Available in these four sizes only; 15' x 3', 20' x 3', 25' x 3', 30' x 3'
Truss Style Aluminum Gangway
The traditional truss style aluminum gangway can be ordered in one foot increments from 15' to 50', and in widths from 28" to 60", in one inch increments. These aluminum gangways are available in both residential and commercial styles.


80' ADA Compliant Aluminum Gangway with security rail,
intermediate handrail, hinge, roller, and transition plates
Our heavy duty model aluminum gangway was designed and engineered to meet the new ADA requirements for shore front accessibility. For example, the 80' gangway pictured is ADA compliant with ADA handrail, security rail, built in kick plate, piano hinge, rollers and transition plate. The price of the gangway pictured is $19,861.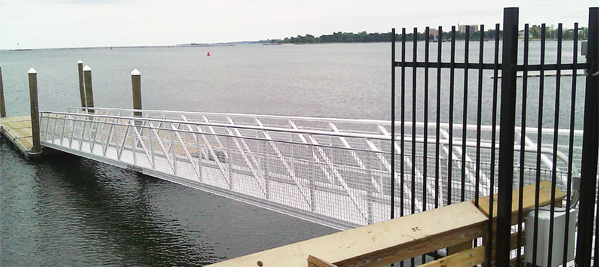 Pleasant Beach Park Water Taxi, Bridgeport, CT

This 80' x 4 ½' ADA compliant gangway is located in Bridgeport, CT. It is used by a water taxi to ferry people to Pleasure Beach Park. The IBC 4" sphere regulation required that the gangway not have openings larger than 4". Aluminum wire mesh infill was attached to either side to satisfy this regulation. To see close up pictures of the infill, click on Picture Gallery, and go to the Accessory Folder.
» Picture Gallery

Aluminum gangway at Dundalk Marine Terminal, Baltimore, Maryland

Aluminum Gangways are maintenance free and are a good solution for accessing dolphins at industrial ports.
» More Information